The Thorny Devil is an Australian lizard that is also known as the Thorny Dragon, the Mountain Devil, or the Thorny Lizard. They can live up to 20 years and grow up to be 20 centimeters long. Female Thorny Devils are larger than males, and they feed on ants.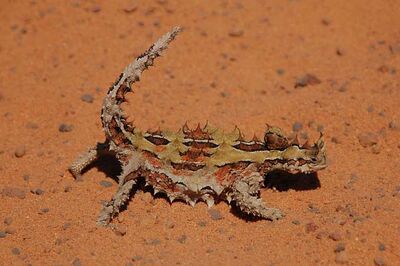 Ways of defense
Edit
They are covered in spikes that act as a defence mechanism. Also, they have a fake head behind their real head. When threatened, they duck their head very low down, leaving only their fake head visible, which will scare away enemies.
Ad blocker interference detected!
Wikia is a free-to-use site that makes money from advertising. We have a modified experience for viewers using ad blockers

Wikia is not accessible if you've made further modifications. Remove the custom ad blocker rule(s) and the page will load as expected.