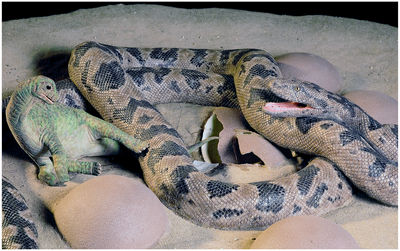 The Sanajeh (meaning "ancient gape" in Sanskrit) is a genus of late Cretaceous madtsoiid snake from western India. A recently described fossil from the Lameta Formation has been found coiled around an egg and an adjacent skeleton of a 50 cm long sauropod dinosaur hatchling. This suggests that the snake preyed on hatchling sauropods at nesting sites.
Like many early snakes, Sanajeh did not have the wide gape seen in boids, pythons, and caenophidians. Therefore, it could not consume prey as large as that which many modern snakes can. Living snakes that have narrow gapes, including uropeltids, Anomochilus, Cylindrophis, and Anilius, have diets that are limited to smaller animals such as ants, termite larvae, annelids, and amphisbaenians and caecilians. The short supratemporal and broad, short quadrate indicate that the oral gape of Sanajeh was narrow. The gape is thought to have been similar to that of the extant genus Xenopeltis. However, the presence of strong m. protractor pterygoidei muscles inferred from the sagittal crest of Sanajeh indicates that it was able to manipulate prey in its mouth like modern macrostomatans. The intramandibular joint was able to flex greatly, which would allow for the consumption of larger prey. The presence of these features in Sanajeh shows that increased oral kinesis (movement of the mouth) and intraoral mobility (the ability to move the bones of the palate) preceded the development of wide gapes in snakes. Therefore, reduced cranial kinesis in basal living snakes may be a fossorial adaptation rather than the retention of a plesiomorphic trait.
Ad blocker interference detected!
Wikia is a free-to-use site that makes money from advertising. We have a modified experience for viewers using ad blockers

Wikia is not accessible if you've made further modifications. Remove the custom ad blocker rule(s) and the page will load as expected.