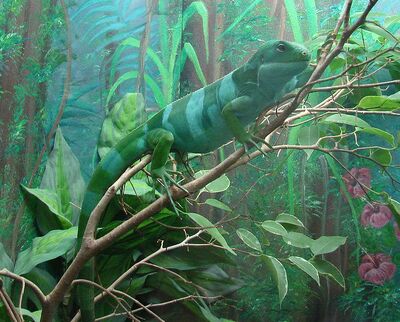 A Fiji banded iguana is a kind of diurnal iguana. They can grow to be 60 centimeters long, and can change their skin color to match its surroundings.
Food choices
Edit
Figi banded iguanas eat leaves, fruit, and flowers from trees and shrubs. They eat fruit such as bananas and papayas.
southeastern Fijian islands
The islands of...
Wakaya
Moturiki
Beqa
Vatulele
Ono
Dravuni
Taveuni
Nggamea
Vanua
Balavu
Avea
Vatu Vara
Lakeba
Aiwa
Oneata
Vanua Levu
Totoya
Kabara
Fulaga