The Caudipteryx is an omnivorous Cretaceous
dinosaur
that is about the size of a peacock. The first fossils of them were discovered in China, and their strong legs make them seem like they would have been a swift runner. They have quill knobs in their skeletons, telling that they definetely had feathers. The name "Caudipteryx" means "tail feather," and they were named after the fan of feathers at the tip of their short, stiff tail. They are very likely to be some of the ancestors of modern flightless birds, and probably just birds overall.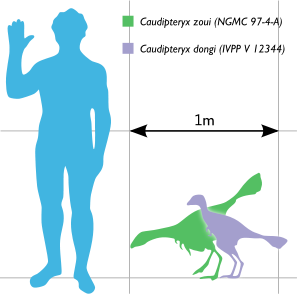 Ad blocker interference detected!
Wikia is a free-to-use site that makes money from advertising. We have a modified experience for viewers using ad blockers

Wikia is not accessible if you've made further modifications. Remove the custom ad blocker rule(s) and the page will load as expected.