'
Information

Kingdom

Animalia

Phylum

Chordata

Class

Reptilia

Order

Dinosauria

Length

? inches/feet (? centimeters/meters)

Weight

? pounds (? kilograms)

Distribution

Where was this dinosaur found, or what was its usual habitat?
Describe basic information about this dinosaur here!
Diet Sauropods, Iguanodonts and other theropods
Edit
What does this dinosaur eat?
New Section. Carcharadontosaurus is a giganotosaurid that lives in Africa that is 43 ft long, 13 ft tall, and weighs 7 tones. Also there have sightings of this theropod in the congo that kills elephants, sauropods, rihnos, and hippos
Edit
You can add more sections to the article like this.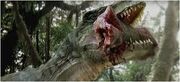 Ad blocker interference detected!
Wikia is a free-to-use site that makes money from advertising. We have a modified experience for viewers using ad blockers

Wikia is not accessible if you've made further modifications. Remove the custom ad blocker rule(s) and the page will load as expected.