Ankylosaurus
(which is pronounced /ˌæŋkɨlɵˈsɔrəs/ [ANG-ki-lo-SAWR-us] or /æŋˌkaɪlɵˈsɔrəs/ [ang-KIE-lo-SAWR-us], and which means "fused lizard") is the genus of ankylosaurid
dinosaurs
containing one species,
A. magniventris
. Fossils of
Ankylosaurus
are found in geologiv formations dating to the very end of the Cretaceous Period (about 66.5–65.5 Ma age) in western North America.
Although a complete skeleton has not been discovered and several other dinosaurs are represented by more extensive fossil material, Ankylosaurus is often considered the archetypal flanked dinosaur. Other ankylosaurids shared its well-known features—the heavily-armored body and massive bony tail club—but Ankylosaurus was the largest known member of the family.
Paleobiology
Edit
In comparison with modern land animals, the adult Ankylosaurus was very large. Some scientists have estimated a length of 9 meters (30 ft). Another reconstruction suggests a significantly smaller size, at 6.25 m (20.5 ft) long, up to 1.5 m (5 ft) wide and about 1.7 m (5.5 ft) high at the hip.Ankylosaurus may have weighed over 6,000 kilograms (13,000 lb). The body shape was low-slung and quite wide. Ankylosaurus was quadrupedal, with the hind limbs longer than the forelimbs. Although its feet are still unknown, comparisons with other ankylosaurids suggest Ankylosaurus probably had five toes on each foot. The skull was low and triangular in shape, wider than it was long. The largest known skull measures 64.5 centimeters (25 in) long and 74.5 cm (29 in) wide. Like other ankylosaurs, Ankylosaurus was herbivorous, with small, leaf-shaped teeth suitable for cropping vegetation. These teeth were smaller, relative to the body size, than in any other ankylosaurid species. Ankylosaurus did not share the grinding tooth batteries of the contemporaneous ceratopsid and hhardosaurid dinosaurs, indicating that very little chewing occurred. Bones in the skull and other parts of the body were fused, increasing their strength.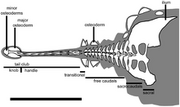 Ad blocker interference detected!
Wikia is a free-to-use site that makes money from advertising. We have a modified experience for viewers using ad blockers

Wikia is not accessible if you've made further modifications. Remove the custom ad blocker rule(s) and the page will load as expected.